Our Mission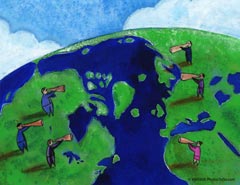 In Sickness and In Health is a NJ nonprofit corporation whose mission is to promote health and well-being in underserved communities, both in the United States and internationally, through projects devoted to improving access to health care, quality of health care, and health literacy.

Dr. Lee Shearer and John Radice founded In Sickness and In Health in 2007. The organization focuses on addressing health care disparities and seeks to support projects such as outreach, education, humanitarian relief, disease prevention, and health promotion. We aim to fund projects in which we are actively involved, dedicating our time, thought, and energy, and allowing for close monitoring of projects.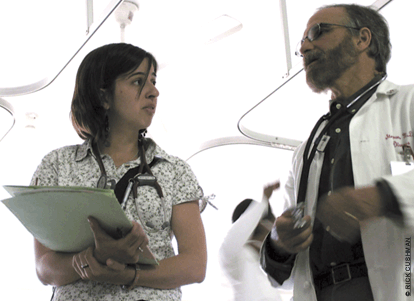 In 2007 Lee joined the Botswana-UPenn Partnership program at Princess Marina Hospital, profiled in the
cover story of the March/April 2007 Pennsylvania Gazette
. Over the next several years,
In Sickness and In Health
helped to develop and fund a hand-hygiene program there, working closely with the Infection Control Office locally.
In Sickness and In Health
donated anti-microbial hand-wash and dispensers to the patient wards, helped to
design an educational hand-hygiene curriculum and a surveillance tool to assess hand-hygiene compliance, and sponsored the creation of instructional hand-hygiene and medical-waste disposal posters for patients and staff.

None of this could have been accomplished without the energy and assistance of

our on-the-ground summer interns.
Hand-hygiene instructional poster, PMH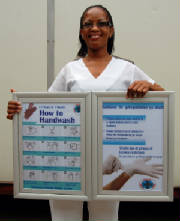 Photo by Ryan Littman-Quinn
Regular hand washing cuts infection transmission rates dramatically, and given the low cost, offers a fantastic return on investment.

These types of projects are precisely the type of targeted, efficient, and effective work that In Sickness and In Health seeks to continue to fund.
Since then, the Infection Control Office has undertaken a bid to secure regional accreditation for the hospital, with a focus on hand-hygiene. In Sickness and In Health is proud of the progress made and of the strides the Princess Marina is now taking to forge ahead in infection control.
Organization News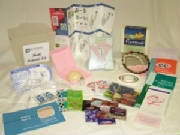 In 2010, Lee began working as a Fellow in Adolescent Medicine in the Washington Heights neighborhood of Manhattan where the patient population of predominantly Spanish-speaking immigrants has remarkably limited access to health resources. Sexually transmitted disease and unplanned teenage pregnancy are prevalent, and reproductive health education is limited.
Recognizing that education represents a critical tool for health promotion among local adolescents, In Sickness and In Health donated fully equipped Reproductive Health Education Kits to an adolescent health clinic affiliated with Columbia University. The hands-on kits are designed with adolescents in mind to make learning concrete and immediate. The kits have the added benefit of helping to train health care providers in sexual and reproductive health counseling.
Our Future
Please consider supporting In Sickness and In Health and the positive change achieves. Other examples of projects that In Sickness and In Health may pursue include:

--funding a local outreach project to encourage transitioning urban youth to establish care with an adult provider as they age out of Pediatric care

--providing medical supplies to a humanitarian relief mission
--supporting research on young women's reproductive health in a developing country
Our Commitment to Contributors

In Sickness and In Health pledges to our contributors that all donations go directly to fund our programs. The founders cover the administrative costs so that 100% of your donations go where you intend -- to the beneficiaries of our programs.
Care to Donate?

To contribute online please select an amount from the drop-down menu below.

Alternately, you may contribute via personal check, made out to "In Sickness and In Health," and mail it to: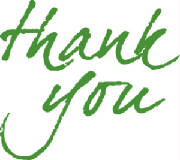 In Sickness and In Health
c/o John Radice
6 Dennick Court
Princeton, New Jersey 08540
In Sickness and In Health is a tax exempt public charity under Section 501(c)(3) of the Internal Revenue Code, and donations made to In Sickness and In Health are deductible to the full extent permitted by law. If you have questions or need a copy of our exemption letter, please
contact us
.
If your employer has a matching-gift program or if you would like to discuss a gift of appreciated securities, please
email
or call us at 646-245-8502 prior to donating.